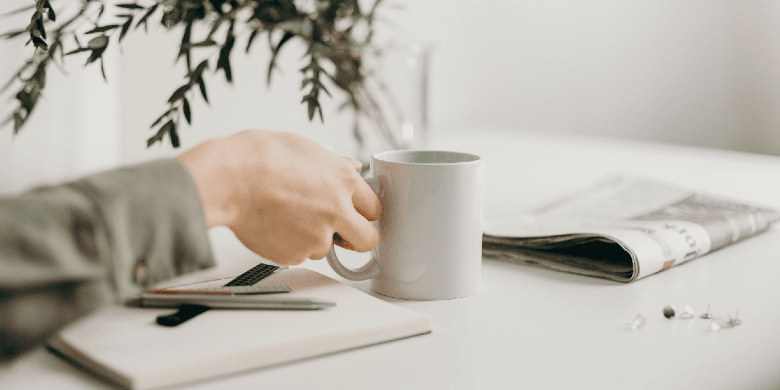 15 November, 2021
Custom Mugs For Office Use
So you are thinking of doing some custom mugs for your staff to use at the office and wondering what the ideal one to choose is. If you are looking to brand your logo, the best print result is always a white mug. When you have a coloured mug, the colour background can affect the print colour, so if possible, always choose a white mug.
Next is the branding. If you want an extensive coverage of print, the ideal coffee mug to choose is one with straight sides. When you have a straight-sided mug, it means we can do a wrap print that goes all the way around the mug. When you start getting into tapered or "bulging" shapes, we are very restricted on the print size, so for best results try and get a straight sided mug. The biggest selling coffee mug is just our straight sided, white 300ml mug.
After that, you want to look at whether you want the mug to be dishwasher safe or not. This is where the branding technique comes in. 90% of mugs are printed in two ways. Firstly by either a pad print or wrap screen print. In these methods, the ink is directly applied to the mug and then it is kiln fired to dry the ink and secure it to the mug. This type of firing is also known as "low fire", as the kiln is not ramped up to the highest heats. The advantage to this is cost. It is much cheaper to pad print or screen print a mug. The drawback is it is fine for handwashing, but due to the strength of dishwasher powders and tablets nowadays, over time, they will slow work the branding off the mug and make it faded. The second option is to do a decal print. This is done by having your design printed onto a decal and then high fired in a kiln. The advantages of this are the mugs are now dishwasher safe. The disadvantage is the cost. It is all done by hand and is very time consuming, which makes it a much more expensive option. If the mug's purpose is for an office, then usually, the low fire option of pad printing is fine, as most employees hand wash their plates and mugs.
Next is the "Wow" factor. Do you want a cheaper mug, but it doesn't have much in the way of looks, or do you want something fancier with perhaps an exterior colour, or handle and rim coloured. If you go for these styles, ensure you try and colour match your logo. So if your logo is red, get a mug with red trims, or at least something that colour matches well. Otherwise, the final design will not look very good.
Mugs supplied by employers in the workplace are a nice additional staff benefit they will appreciate. Other nice touches are a filtered water fountain, or if you want to go full luxury, perhaps a seated massage once a month. One thing is for sure, mugs in the office are a great way to give brand reinforcement, plus it gets rid of waste from paper cups. Encourage them to take their mugs to the local café and have them filled, instead of getting a paper cup and help a little with the environment.
Whatever way you look at it, coffee mugs in the office make sense. If you need help deciding what would work best in your office, give us a call to discuss or send us an email with your requirements. Happy Drinking!
The Mugs Only Team