22 June, 2015
Stainless Steel Your Corporate Brand Today
Stainless steel is a great metal steel used to make many things. Many of us love purchasing stainless steel utensils because they are non-toxic, bacteria free, strong, easy to maintain & clean. They are used to manufacture many things, we especially notice them in kitchens, for example, dishwashers, bench tops, microwaves and bins. As well as kitchen utensils such as pans, mixing bowls and cutlery sets. Steel doesn't rust, chip, crack or bend. It is a great way to save your money in the long run.
At MugsOnly, we supply a great range of 'stainless steel coffee mugs'. Stainless steel coffee mugs are loved by many of our clients; they are a popular choice when wanting a perfect mug. These mugs are mainly requested for cafes, restaurants and breweries. Why? Because they are easy to maintain, durable, bacteria free and easily cleaned.
Our stainless steel coffee mugs offer you the choice of engraving your corporate name and logo to improve your company's profile. When your clients are having a sip of coffee, tea or any other type of beverage, your brand will be showcased loud & clear. It is a fantastic way to influence potential customers as they can also be used as promotional giveaways. So don't hold it back any longer, improve your cafe, restaurant or brewery with our excellent stainless steel coffee mugs.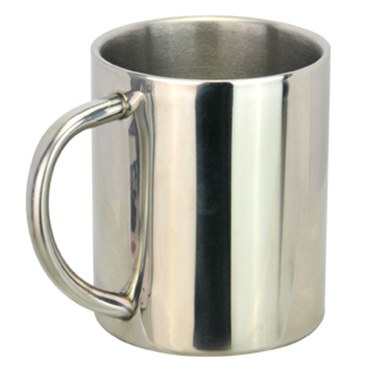 The Mugs Only Team